Genius Skin Lifting Treatment
Genius RF Microneedling: A Smarter Treatment for Skin Tightening
Genius uses an intelligent technology to insulate and protect the top layers of the skin, while delivering RadioFrequency (RF) energy through microneedles into the dermis. It works by creating controlled micro-puncture wounds on the skin's surface, which acts as delivery channels for fractional RF heat to deliver into the skin using 49 microscopic needles.
The dual action of creating micro-puncture wounds and delivering of precise RF energy into the dermis stimulate the skin's collagen and elastin production, inducing your body to kick-start the natural healing process for firmer, tighter, and younger-looking skin.
For skin to be firm and lifted, it depends mainly on 2 components in the skin – collagen and elastin. These two important components are found in the deep layer of the skin called the dermis. As we age, we begin to lose collagen and elastin in the skin. Our bodies also start to produce less and less of these youth-preserving components. Therefore, our skin start to lose elasticity, resulting in loose, saggy skin.
How does Genius improve skin laxity?
Its RF technology is specially designed to address sagging skin, wrinkles and changes in skin's texture caused by premature ageing. Its skin-lifting capabilities are bolstered by its 3-dimensional approach to delivering precise RF energy to create tissue volumization.
The process of delivering precise RF energy to regenerate collagen and elastin helps to improve overall skin texture and skin laxity. When RF energy is delivered under the skin, it instantly converts to heat, just enough for the dermis layer to respond as if a wound has occurred, triggering new production of collagen and elastin to heal the tissue, even though there is no actual wound on the outer layer of the skin. The regeneration of collagen and remodelling of new tissue help to improve many skin condition such as acne scars, stretch marks, skin laxity and saggy skin.
How is Genius Different from INFINI?
In December 2018, Genius obtained FDA clearance for treating facial wrinkles. Other than treating facial wrinkles, Genius also has skin lifting and tightening capabilities. It uses ultrafine needles to induce controlled damage to the skin. By using ultrafine needles, it induces less superficial damage to the skin, reducing the discomfort and downtime often associated with micro-needling treatments.
Lutronic made improvements to Genius compared to its predecessor, the INFINI. Genius uses an intelligent handpiece which analyses the skin before it delivers the shot, allowing for real-time adaptation of needle penetration depth to account for varying skin thickness and texture. By delivering each shot with customized precision, you can expect the result to be more impressive and long-lasting as compared to INFINI.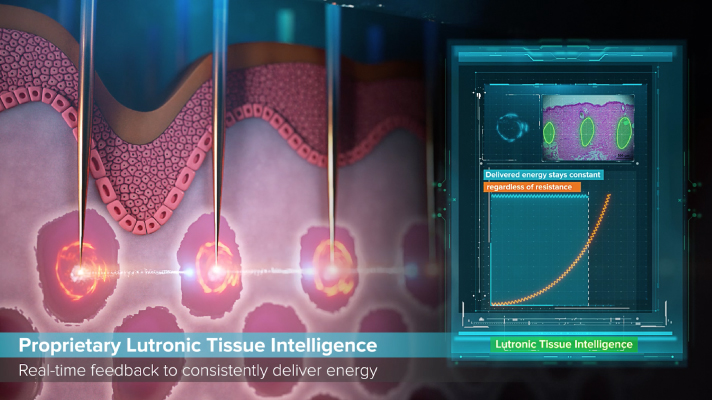 can Genius Be Combined with other skin lifting treatments?
Absolutely. Although Genius is a fantastic skin tightening treatment, it can also be combined with other treatments such as Ultherapy, TriPollar and thread lift to achieve a more dramatic result.
Although you may see some results in a few days, it may take 3 to 4 weeks to see the optimal result from the treatment as collagen and elastin take time to develop.
What are the side effects and downtime?
Side effects of the treatment are usually mild in nature. You may experience pinpoint bleeding with some bruising. If your skin is sensitive, you may experience some swelling for up to 2 weeks. Most people should notice the side effects to subside within 3 to 4 days. In fact, some people are able to return to work the next day with minimal discomfort.
People with mild to moderate skin laxity who wish to explore non-surgical skin lifting options.