Subcision Acne Scar Treatment
Treat Depressed Acne Scars with Subcision
Atrophic or depressed scars are very common on the face. Such scars are formed when a severe breakout penetrates deep into the skin and damages the tissues beneath it. Very often, superficial acne will heal quickly without leaving any scars. When deep inflammation happens, the dermis can be damaged to form depressed scars on the skin. This is cause by insufficient collage produced during the healing process.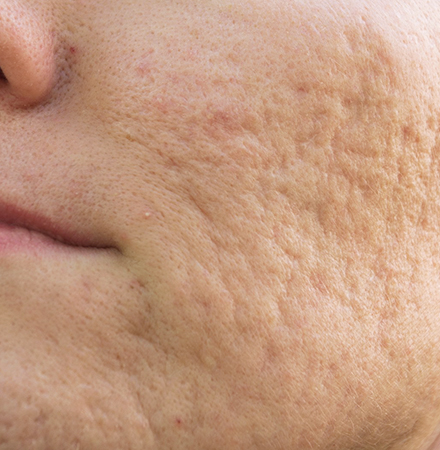 I have some purplish, dark marks on my face. Are those permanent scars?
It is important to be clear on the difference between acne scars and post-inflammatory hyperpigmentation (PIH). These pink, red or purple marks you see on your face are PIH and these are not acne scars. It is perfectly normal for the affected area to take on a different color compared to the surrounding skin as the wound repairs itself after the inflammatory process. Such skin discoloration can be improved with Dual Yellow Laser and/or Retin-A.
Acne scars can be classified into several types based on their appearance and the depth of the scar. Here are some of the most common types:
Ice Pick Scars: These are deep, narrow, and sharply defined scars that look like tiny holes or punctures in the skin.

Boxcar Scars: These scars are wider and have a box-like shape with sharp edges. They can be shallow or deep, and are usually found on the cheeks and temples.

Rolling Scars: These scars have a wavy, rolling appearance due to the presence of fibrous tissue bands that pull the skin down.

Hypertrophic Scars: These are raised, thickened scars that form when there is an overproduction of collagen during the healing process.

Post-inflammatory hyperpigmentation (PIH): This is not a scar but is a discoloration of the skin due to increased melanin production after an acne lesion. The color of PIH ranges from pink, red, brown to black.

Atrophic Scars: These are the result of tissue loss from the skin and can be a combination of ice pick, boxcar, or rolling scars.
Frequently asked questions about Subcision Treatment in Singapore
People who have moderate to severe acne scars particularly rolling scars and boxcar scars. Suitable for people who can take a longer downtime but with faster, more visible results.