Improve skin texture and reverse premature skin ageing
Unlike other therapies which are currently available, Tixel is not a laser, radiofrequency microneedling, or ultrasound treatment. It leverages on thermo-mechanical ablative (TMA) technology to trigger your body's own response to heal and repair itself.
With its versatile functions, Tixel can truly be described as a treatment that can be tailored to your individual needs based on your skin concerns.
The TMA technology works by using a bio-compatible tip that is about 1cm² with an array of 81 pyramid-shaped pins made of titanium. When activated, the pins are quickly heated to a temperature of about 400°C.  During the treatment, the thermal energy stored in the pins are rapidly transferred to the skin in a fraction of a second using a stamping motion. This motion is programmed to precisely administer the shots on the skin with controlled speed and distance. Depending on the type of treatment, the extent of the energy transfer can be adjusted mainly by 2 components:
As these pins are not needles, they are not designed to perforate the skin. It works by transferring heat to the tissue by contact.
Different functions of Tixel
Tixel has three modes: Non-ablative, ablative and open-channel.
NON-ABLATIVE This mode heats the skin in the upper dermis of the skin, while protecting the superficial layer of the skin. It creates tiny openings in the skin to stimulate collagen contraction to tighten saggy skin naturally. This function is suitable for all skin types, even for people with darker skin tones.
ABLATIVE This mode creates micro-channels on the skin to stimulate collagen production in the skin. This is an aggressive treatment which means that you can expect the downtime to be about 5 days or longer.
OPEN CHANNEL This function is similar to the non-ablative mode, except that the channels this mode creates permeable channels on the skin to allow more effective transdermal absorption of topical compounds.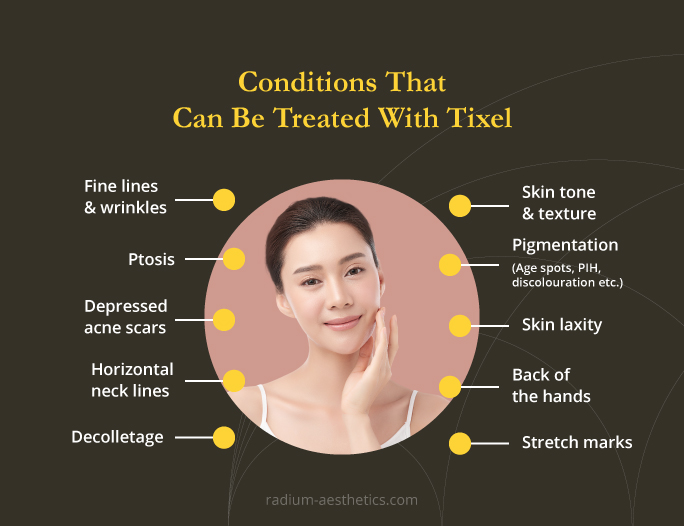 What conditions can Tixel treat?
How Long is the downtime?
This treatment does not perforate the tissue and should not cause any bleeding. However, the skin is exposed to the high temperature induced by the TMA technology during the treatment. You may experience mild erythema and heat sensation for several hours. Depending on the function, the treatment may cause the skin to be red and tender for up to 5 days.
How many sessions are required?
You should be able to see some improvement in fine lines and overall skin tone and texture after 1 session. However, we usually recommend patients to undergo at least 3 to 4 sessions, 1 month apart, to see visible improvement in your skin condition.
Who is a suitable candidate for tixel?
Tixel can be applied on all skin types, including people with dark skin tone. However, we don't recommend people with skin diseases, infections or pregnant/ breastfeeding women to undergo this treatment.
Are there side effects and risks with tixel?
Tixel is generally a safe treatment as it does not perforate the skin. However, there are some potential side effects and risks which may occur in some people. It may cause sensitivity, redness and pain in some people with thin, sensitive skin. For the ablative mode, swelling is also a common side effect that may persist for many days. You can also expect some crusting and scabs a few days after the treatment, which should fall off naturally over the next couple of weeks.
People who are looking for a fuss-free, affordable treatment to treat various skin concerns with minimal risks and downtime.