Under Eye Treatment to Reduce Appearance of Wrinkles and Fine Lines
Wrinkles and fine lines can appear at an age. They can appear because of harsh environmental conditions. Extreme weather conditions and pollution can cause us to age prematurely. Wrinkles can also show up because we mistreat our skin such as constantly squinting our eyes or making animated movements around our eyes. Using harsh cleansers and make-up can also accelerate aging around the eyes causing dark eye circles to form. The under eye area is extremely delicate and the skin around our eyes are thin. Fine lines, dark eye circles and wrinkles are probably the first signs to appear on the face when we age.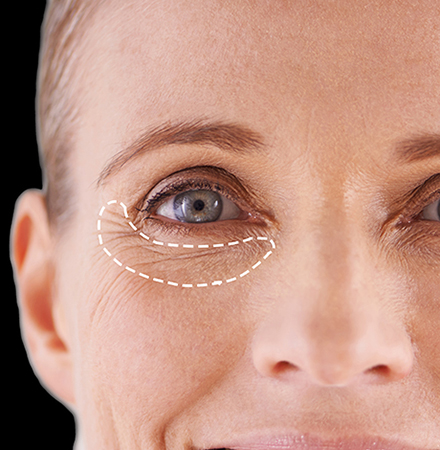 Eye treatment using RF microneedling
Rejuvenation of the eye area is difficult, often requiring harsh laser resurfacing treatments for effective results. At Radium Medical Aesthetics, we offer a gentle yet effective treatment to tighten sagging skin around your under eye area to eliminate wrinkles and reduce appearance of dark eye circle. This treatment features a Korean radiofrequency micro-insulated needle system to effectively get rid of loose skin under the eyes. The doctor carefully pierces the skin superficially at precise, controlled depths of up to 3mm. The needles deliver heat and radiofrequency waves to heat skin tissue and stimulates collagen remodelling and production in your skin.
What is the process like?
The 40-minute treatment begins with application of numbing cream and local anaesthetic injections around the eye area. The doctor begins by taking the hand-piece with the sterile micro-needles to puncture tiny holes under the eyes to deliver radiofrequency waves. Post-treatment care is administered by the nurses to reduce the mild swelling and redness you may experience.
How long is the downtime?
You may experience some swelling and redness around the eyes for up to 3 to 4 days. Try to rest at home and reduce any social engagements you may have. However, you can conceal them with some make up and foundation by the 3rd day if you like.
What results Can I expect?
The radiofrequency waves that are delivered by the micro-needles will stimulate collagen growth, leading to firming and contraction of the skin and wrinkle reduction around the eyes. At the same time, the needles can also melt fats in your eye bags and cause the liquified fat to drain out naturally via your circulatory system. You can expect tighter and firmer skin, and brighter, more youthful eye, with results visible after each treatment session.
How long can the result last?
Best results can be seen in about 4 weeks. The result should be able to last for about 2 years. We encourage that you undergo the treatment between 12 and 18 months to enjoy longer lasting results.
How often must the treatment be repeated?
You will see good result after one session with less obvious wrinkles and dark eye circle. However, results in individual may vary and you should consult with the doctor to determine the number of treatments required for long-lasting results.
Men and women with tired, saggy eyes who wish to tighten and lift the skin around the eyes to make them brighter and more youthful.