Skin Tag, Wart, Oil Seed Removal
Safe, Precise Laser Treatment for Skin Tag, Wart, and oil Seeds
Warts, oil seeds and skin tags are lumps and bumps that can be found on any part of the body. However, they are commonly found on the neck, eyelids and underarms. While most of these are harmless, people often choose to remove them as they can be unsightly and cause discomfort when you rub against them.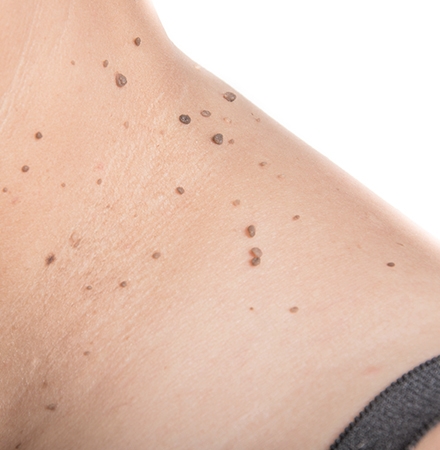 What exactly are skin tags?
Skin tags are soft, benign growths that are often found on areas such as armpits, breast, groin area, eyelids and skin folds of the neck. These growths are loose collagen fibers and blood vessels surrounded by skin. Although both men and women can develop skin tags, they tend to occur more frequently in people who are older and people who are obese or are suffering from type 2 diabetes. Pregnant women are also prone to getting skin tags because of changes in hormone levels. It is not entirely clear why some people are more prone to getting skin tags, but doctors believe that the constant rubbing of skin against itself, such as on the neck, armpits and groin, make people more susceptible to getting skin tags. This means that they tend to affect people who are overweight who have excess skin folds.
are skin tags and warts the same?
Skin tags are look like warts, but skin tags are generally:
not contagious and don't spread to other areas of your body
hang off the skin from a thin stalk and may cause discomfort or pain if snagged by jewelry or clothing
smooth and soft
On the other hand, warts tend to have an irregular surface and appear flat. While warts are caused by Human Papilloma Virus (HPV), skin tags are usually not associated with HPV.
what treatments are suitable for warts, oil seeds and skin tags
At Radium Medical Aesthetics, we use SmartXide Punto to remove the warts, skin tags, and oil seeds – safely and precisely. As this is not a surgical procedure, it is safe and convenient. Furthermore, this treatment does not have leave any scars and do not have any downtime. SmartXide Punto targets the growths precisely and remove them without affecting the surrounding tissue.
can i remove skin tags myself?
Some people choose to perform skin tag removal at home by themselves. However, we do not encourage this as it can potentially lead to complications such as infection or permanent scarring. Hence, we encourage you to consult a doctor to remove them safely to avoid any complication.
Skin tags can be easily removed by burning or freezing them or surgically removing them – all under local anesthetic.
Freezing or burning these lumps and bumps may cause skin irritation and redness temporarily. However, these side effects should subside in a few hours.
will warts, oil seeds and skin tags recur?
In most cases, these lumps and bumps should not grow back after removal. However, if you develop them again in the same place after a few months, you may just be prone to getting them in the area.
People with lumps and bumps on the face and/or body and wish to get rid of them for cosmetic reasons.