LED Red Light: Improving Overall Skin Texture with Light Therapy
Healite LED Red is based on a new concept of Low Level Light Therapy (LLLT) in aesthetic medicine. This treatment is ideal for people who are keen to reap the benefits of light based therapy, but wish to opt for a gentler option than lasers. Healite LED Red uses Optical Lens Array Technology (OLAT) to effectively harness and deliver the healing energy of 1800 new generation LEDs at 633nm wavelength and maximize the therapeutic outcome.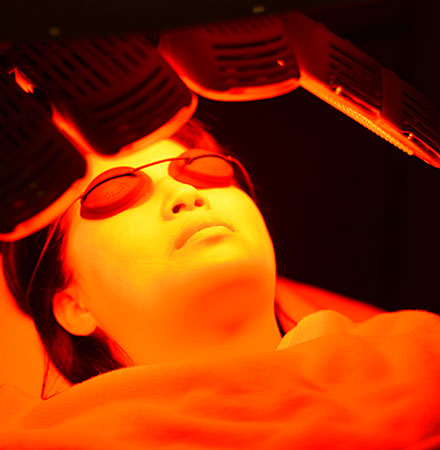 Why is LED red light good for the skin?
Once exposed to LED Red Light, it penetrates to a depth of about 8mm to 10mm of your skin. The light energy is converted to cellular energy, stimulating the body's natural processes on a cellular level to deliver a range of benefits to your skin.
Clinical studies have shown that the LLLT (LED Red Light) has the following benefits:
Promote blood circulation and formation of capillaries. This means that it brings a healthy glow to the face so as to maintain a youthful, healthier appearance
Stimulate collagen production. Collagen is the essential building block for youthful skin. An increase in collagen means that your skin will see a reduction in the fine lines and wrinkles, experience smoother texture, and reduce pore size over time
Promote skin healing after laser procedures and other injuries such as sunburn, scars and stretch marks
Improves active acne, especially when performed with LED Blue Light therapy
Why is LED red light good for the skin?
This is a painless and comfortable treatment which takes about 20 minutes.
Those who wish to restore a healthy glow on your face. Treatment is also suitable for those seeking collagen stimulation and elastin production. Perfect for post-laser treatment as it reduces redness and promotes healing.