Kickstart Skin Repair with DNA-based injectable
Polydeoxyribonucleotides (PDRN) is a compound that possesses several unique therapeutic properties such as to heal wounds, repair skin tissue and reduce inflammation. In fact, doctors have been using PDRN as an effective treatment for tissue repair in peripheral artery occlusive diseases and diabetic foot ulcers. PDRN contains DNA extract of salmon. Other than providing health benefits, salmon DNA has several anti-ageing benefits. Studies have shown that salmon DNA is an important key ingredient for repairing and rejuvenating the skin. PDRN is well-known for its ability to stimulate cell growth that accelerates cell proliferation and regeneration of skin and tissue. In fact, there were studies to support the findings that PDRN is beneficial for regeneration of skin and tissue. Further studies also suggested that PDRN accelerates the repair and growth of bone tissue and encourages the skin repair process in diabetic animals.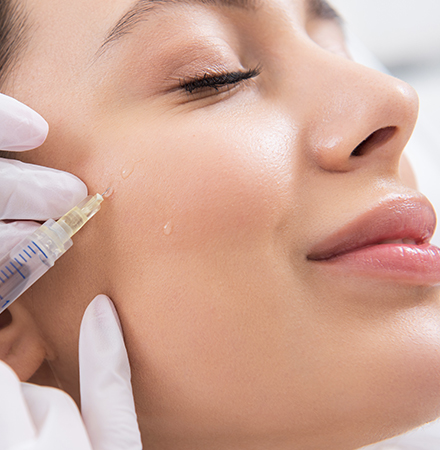 How is PDRN Injection Administered?
After cleansing the face, a thin layer of topical numbing cream will be applied on the skin. When the numbing sets in, the doctor uses a special micro-needle to administer tiny amounts of PDRN directly under the skin at specific points on the face. This comfortable treatment takes about 15 minutes to complete.
How does PDRN Treatment Benefit me?
It is important to note that PDRN treatment is not a facial augmentation treatment using dermal fillers. This means that you are unlikely to see any visible outcome in the immediately. Some results can be seen 3 to 4 weeks after the initial treatment. The anti-ageing effects are delayed because the cells require time to repair and regenerate. You should notice visible improvement in the skin texture with smaller pores. The treatment also encourages your skin to reduce signs of ageing by eliminating wrinkles and fine lines. The elasticity of the skin should also improve over time, achieving tighter, firmer skin.
Rejuran Healer and PDRN: what's the difference?
Rejuran Healer is a brand of PDRN. This is similar to Botox and botulinum toxin. People often simply refer botulinum toxin Type A as Botox, but Botox is actually a well-known brand name of botulinum toxin for treating fine lines and wrinkles. Rejuran utilizes PDRN extracted from salmon DNA to stimulate new skin cell growth and collagen production. After it is injected into the skin, it leads to a rapid renewal of the skin, providing a host of benefits that are often associated with youthful skin. Some benefits are:
Improved skin tone and texture
Reduced appearance of fine lines and wrinkles
Improved acne scarring
Reduced appearance of stubborn pigmentation
PDRN injection is not a dermal filler treatment. A dermal filler is a soft, gel-like substance that is usually made of hyaluronic acid (HA). It is injected under the skin at different depths to reduce facial wrinkles, augment facial features and provide facial volume. The main function of a dermal filler treatment is to conceal and improve visible signs of ageing and enhance deficient areas of the face. Whereas for PDRN injection, the aim is to leverage on its reparative benefits to treat skin damage. If you wish to improve visible skin damage caused by UV and environmental pollutants or oxidative stress, PDRN injection may well be your answer.
Men and women who want to achieve younger-looking skin without undergoing surgical procedure. PDRN Skin Treatment is a suitable non-surgical procedure that allows ageing skin to undergo cell renewal and new cell growth so as to achieve brighter, fairer, skin with less visible fine lines and wrinkles. This treatment is also suitable for people who have small scars on the face as PDRN Skin Treatment helps to accelerate wound healing with brilliant results.